Chuddidar Payjama
Chudidar is an unisex pyjama , with fullness at the top , but tightly fitted at the lower leg from knee to bottom . it is prepared with casing at waist for inserting a cloth tape. It is worn with kameez , Punjabi kurta , jodhpur coat and sharwani . It is cut on bias material to get a nice fit below knee .
Layout plain Cloth (fig 2)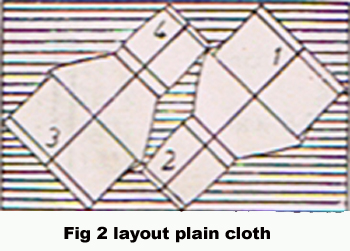 This method is followed when no joint is required , but in this case too much material is wasted as shown in the figure by horizontal lines .
Material required
The length of the material required is twice the full length measure , when the width is nearly the same as the seat (hips) measure . If width is less , the length should be increased accordingly .
Making Bias bag
This bag with a width of nearly two third of the seat (hips) measure , should be prepared as follows.

Figure 4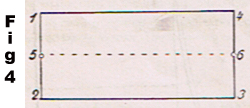 1-2-3-4 is the material taken for this bag .1-4 or 2-3 is on straight grain and 1-2 or 3-4 is on crosswise grain.
Figure 5


By folding the material at 5-6 (fig4) we get the size 2-3-6-5 machine at 2-5 and 3-6 after allowing 1 cm (1/4") seam allowance . Keep 7 from 5 (in straight line ) equal to two third of theseat measure , the required width of bag.
Figure 6


Open the folded material , join 7-1-9 with 7-8-9 and we get a bias bag with all side closed . After cutting on lines 5-7 and 9-6 , the bag can be easily placed on a cutting table .
Now turn the sides 1-2 and 3-4 (fig 7) In such a way that all the joints will come above knee, while cutting the garments. A small seam may appear at the bottom.
Figure 7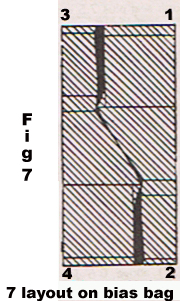 The layout on a bias bag as explained above
.
Measure
1. Full length 102 cm (40")
2. seat (hips) 92 cm (36")
3. Knee round 35.5 cm (14")
4. Bottom round 30.5 cm (12")
Instruction of Drafting

Square line from 0 , fold at 0-4
1-0 = one fourth seat (hips) plus 7.5 cm (3")
2-0 = full length
3-1 = half 2 to 1 less 5cm (2")
4-2 = 7 to 12 cm (3 to 5") or to taste for gathers
Square out from 1, 3 and 4 .
5-1 = one fourth seat plus 5cm (2") .
Square up to 6 7-5 = 5 cm (2")
Join and shape 6-7 as shown
8-3 = half knee round
9-4 = half bottom round
Join and shape 7-8-9 as shown
10-9 = 10 to 15 cm (4 to 6 ") for bottom opening
Keep 5 cm (2") above 0-6 for casing and 4 cm (1 ½")
below 4-9 for inturns
Note : When the width of material is insufficient to cut the pattern on bias as shown in fig 2. the pattern should be cut 7.5 cm (3") above the fork line 1-5-7 see the dotted dash line X-X Now cut the upper part on straight grain and the unfolded lower part on true bias. In case add 1.5 cm (1/2") seam allowance at each side of this joint at X-X